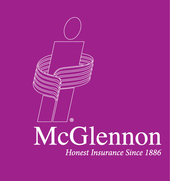 McGlennon Insurance is committed to providing our clients with excellent service. Doing business with an independent insurance broker involves providing information about yourself, so protection of your personal information is one of our highest priorities.
We may obtain your express consent or we may determine that consent has been implied by
our asking for your express consent by having you sign an application or consent form.asking for your express consent in person or over the phone.
determining that by seeking insurance through our organization your consent has been implied for us to deal with your personal information in a reasonable manner. We collect your personal information in order to:
enable us to acquire or renew an insurance policy for you
assist you and assess your ongoing needs for insurance and to offer options to you
ensure your information is accurate and up-to-date
protect us both against error or fraud
You do have choices in this matter. You may refuse to allow us to obtain, use or share your personal information or you may withdraw a previously given consent at any time. However, doing so could limit or even prevent our ability to provide you with the product or service you require. Should you have any questions or concerns contact us.
---